Dried Mango Slices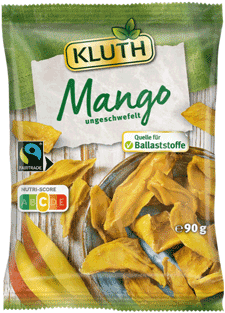 example 100g bag
Origin: South Africa

Description: Dried mango slices with no added sugar

Size category: Slices approx. 4-6 cm

Main Areas of Cultivation: India, Central and South America, South Africa, Australia.

Harvesting / processing:
Ripe mango fruits hang on long stalks from the mango tree and weigh up to two kilograms. The fruit contains a large, flat stone. The colouring of the fruit ranges from green to yellow and red, often in a combination of all three colours. For the production of dried fruit products, the fruits are washed, peeled and sliced after harvesting. Our special drying process preserves the fruit without any added sugar.

Uses:
There are numerous ways which you can use Kluth mango slices: ideal as a snack when you are on the go or - after soaking in water - as a base for fruit salads, cakes or ice cream. Mango slices also give summer punch a tropical, fruity flair.