Pumpkin Seeds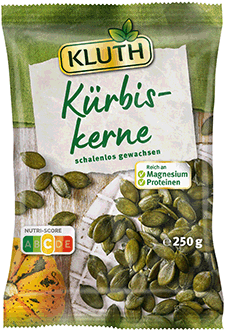 example 200g bag
Quality: without shell, waxed, specially cleaned, sorted by machine

Origin: Austria

Description: Pumpkin seeds

Main Areas of Cultivation: Austria, Hungary

Uses:
The shelled waxed pumpkin seeds are often mixed with other products, roasted and sweetened or salted. Pumpkin seeds also have medicinal qualities. Original Cucurbita pepo pumpkin seeds for the pumpkin seed treatment.

The health conscious consumer is looking in increasing numbers for the seeds of the soft-skinned "summer crookneck," a pumpkin variety (Cucurbita pepo L. convar. Citrullina var. Styriaca.

In Southern Styria, Southern Burgenland and in parts of Carinthia, this healthful oil seed is cultivated. These soft-shelled, dark green seeds harvested from ripe Cucurbita pepo squash have a particularly interesting nutritional content.

These shelless seeds of the bush oil pumpkin have been recognized by the German Federal Ministry of Health as a medicine.