Sultanas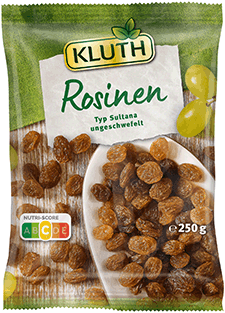 example 200g bag
Quality: Choice Orange River, light Smyrna Jumbo 111, unsulphured

Origin: South Africa / Turkey

Description: Sultanas, unsulphured

Main Areas of Cultivation: Turkey, South Africa, Australia, Greece, Iran

Quality:
South Africa: Orange River choice Orange River standard
Turkey: Type 81 dark / 110 light ,Type 91 mixed / 111 very light and clean

The "choice" designation indicates absolutely top quality fruit.

Sultanas a a special vine variety. The berries are large, coloured golden-yellow to reddish-brown, have a very aromatic taste and a thin skin. The fruits selected from Kluth are unsulphured and seedless. The ripe, light grapes are dunked in a solution of oil and potash. Due to roughening the surface, the berries dry faster than other types of raisins. After drying, washing and removing all stems by hand, they are additionally sorted by laser scanners at modern plants.

Uses:
Sultanas are ideal for baking, e.g. in a Christmas fruit loaf. They make a tasty addition to breakfast cereals and are also used as an in-between snack.